Golden Girls Gift Guide – Best Gift Ideas For House And Home
It's time for the next batch of our Golden Girls Network Gift Guide picks! This time we are focused on the best gifts for the home and kitchen. We've found some great ideas for making your Golden Girl homes cozier and brighter this holiday season!
Me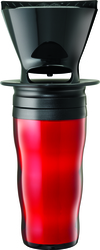 litta Coffee — Who doesn't need a caffeinated pick-me-up every now and then?  We love these gift ideas from Melitta. The 1-cup Pour-Over, allows your Golden Girl to brew coffee just like her favorite shop does, but from the comfort of home (i.e., in her cozy slippers and holiday pajamas)! We also love the travel Pour-Over — perfect for brewing a cup to take on the road.
Garden Tote from Premier Home & Gifts — Our Bonnie loves spending time in the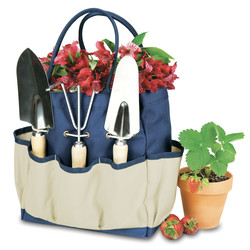 garden of her Golden Girls home. So we were really excited to find Premier Home & Gift's Large Garden Tote, which combines convenience and practicality in a tote anyone with a green thumb would be excited to use all the time. The tote comes with three metal gardening tools secured in an easily accessible pocket. Plus, the bag is really nice looking, made of durable fabric and has a stain-resistant interior. All for $27.95!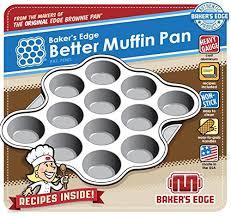 Better Muffin Pan — All home bakers should have this muffin pan! Made by the same company as the famous Edge Brownie Pan, this pan is great for baking muffins, cupcakes, cornbreads, and more! Plus it's only $35.95.
Phone Fetcher — We've all been in this situation, hearing a call or text notification and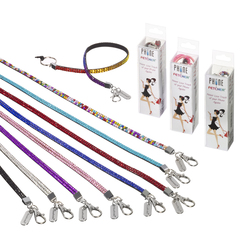 then not being able to find our phone in the bottom of our purse. Enter the PhoneFetcher! PhoneFetcher attaches to any purse, bag or even a belt loop on one end and the earphone jack of a smartphone on the other. For only $14.99 you can help your friends never lose their phones again.
AquaNotes — Sometimes we get our best ideas in the shower! The AquaNotes notepad suctions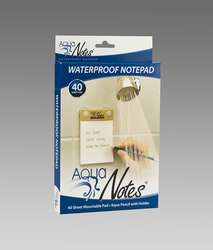 to the shower wall and lets shower thinkers to write down their thoughts before they're gone. The waterproof paper is so durable it can even be written on underwater. The waterproof notepads are only $7 and each one includes 40 sheets of perforated paper so it's easy to take great ideas from shower to the office or even the grocery store. What a great invention!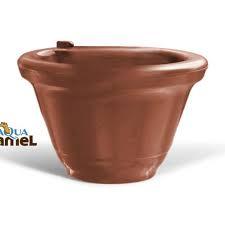 AquaCamel — Have a snowbird in your life? Whether your Golden Girl is heading to Florida for the winter or her kids' houses for the weekend, this self-watering plant pot keeps plants perfectly hydrated for up to 60 days. AquaCamel is available in two sizes, starting at only $24.99.
Tomodachi Photoreal 12 Piece Set — A good set of knives is key to preparing a good meal, and we love the look of this set. These knives have bold, bright-colored, soft grip handles and beautifully detailed photo prints featuring life-like images of your favorite fruits and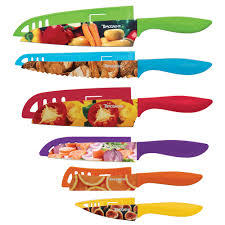 veggies. This set has everything your chef-friend would need, including an 8″ Chef knife with sheath, 8″ Bread knife with sheath, 7″ Santoku knife with sheath, 5.5″ Santoku knife with sheath, 3.5″ Parer with sheath, and 4″ Citrus knife with sheath. And a easy to digest $49.99 price tag!
Flash Chill Iced Tea Maker — There's nothing quite like a tall glass of iced tea on a hot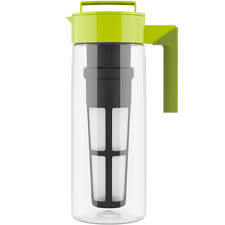 summer day and this pitcher will allow your friends and loved ones to brew that cup even quicker! The Flash Chill Iced Tea Maker from Takeya chills freshly brewed tea in seconds, locking in freshness, flavor and nutrients at its peak. This pitcher prepares two quarts of iced tea at a time — and it only costs $29.99.